text.skipToContent
text.skipToNavigation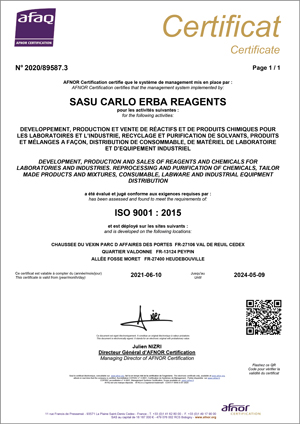 Thanks to daily work and monitoring, CARLO ERBA Reagents is certified ISO 9001 version 2015 for the development, production and sale of reagents and chemical products for laboratories and industry, the valorisation of chemicals, products and contract mixtures, and the distribution of consumables and laboratory equipment.
The main challenge of the ISO 9001 version 2015 standard is to make the quality management system a real steering tool, which goes beyond the boundaries of the company and which, through the leadership of the management, enables it to be maintained in a long-term vision.
The main changes:
Strengthening of the process approach with greater involvement of the lead
Consideration of the entire life cycle of products and associated services
Management through risk and opportunity analysis (definition of business strategies,
projects, quality, [...]
Strengthening change management at all levels of the company
Control of outsourced activities with, among other things, appropriate control of external supply of products and services

Download the certificate
The 2 production sites (Val de Reuil (27) and Peypin (13)) are also regularly inspected by the ANSM (Agence Nationale de Sécurité des Médicaments, the French Medicines Safety Agency) for their manufacturing of Xcipharm® brand Pharmaceutical Raw Materials.


Download the certificate for Val de Reuil

Download the certificate for Peypin