As a recognized manufacturer of chemicals for over 150 years with 2 production sites and 1 logistic hublocated in France, CARLO ERBA Reagents is at the service of its customers to meet their expectations while respecting their requirements and constraints.
The proximity of our Quality, Production and Logistics teams allows us to work together with the customer to find the most suitable solution and thus makes CARLO ERBA Reagents a real partner.
PRODUCTS
The diversity of our facilities (distillation columns, storage tanks, dedicated filtration units, production of Pharmacopoeia quality purified water, mixers, distillation and percolation columns, packaging lines, clean rooms and ISO8 laminar flows for solids) offers important flexibility on the products.
According to your requirements CARLO ERBA Reagents can work on the specificationsof its regular products:
B

atch selection

Distillation                        

Source new producers

Impurities identification
PRODUCTION
We are able to produce different kindof solutions or mixtures. For various applications from 5 L to tons, and to save time, to reduce risks associated with the preparation of these solutions, to provide a record label and safety data conform to current legislation.
- Acid-bases dilution
- Buffered, acidified phases, or analytical preparative phases
- Reagents for biotechnology
- Titrated solutions
- Reagents for on-line analysers like TOCmetres or silicemetres
- Standards for AAS, ICP, ICP-MS mono or multi-elements
We provide expertise with over 150 years of experience in the purification of your chemical products and custom recycling of your high purity solvents.
Thanks to our logistics expertise we offer you a safety stock to palliate any unfortunate events and to avoid you to store huge quantity of Chemicals.
PACKAGING
We pack your chemicals in the container of your choice, regular or custom produced.
- Bottle, barrels, bucket with total opening, reusable container in polypropylene, glass, stainless steel, Téflon®, from a few millilitres or milligrams to several tons.
- Inorganic or organic products, solid or liquid.
- Custom labelled, preweighing, pre-proportioning.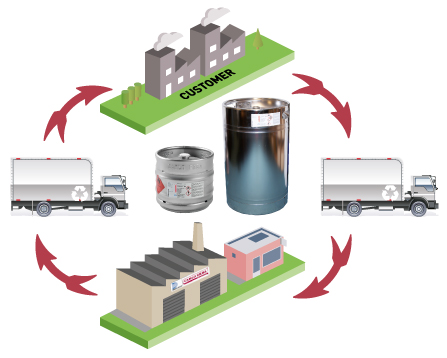 Stainless steel returnable containers to optimize solvent quality and the management of packaging waste
Deliveries in large volume
The solvents you used in huge quantities can be delivered in IBC and tankers up to 25 000L :
- The product type and usage determine the type of IBC of the material
- Certificate of analysis of the container
- Representative sample delivered with the IBC under request
- Full traceability of the product

Download the brochure or contact us for your projects!